The Jabali concession is located 6km west from the Alamos Gold's Mulatos mine, a heap leach operation that has produced over 2Moz of gold since 2005 and still contains an estimated 4Moz of gold in reserves and resources. Jabali is host to the historic La Dura underground mine where an estimated 100,000t of ore grading 3g/t Au was previously mined. The La Dura workings are in an intensively silicified and brecciated rhyolite.
Underground channel sampling and core drilling conducted by Tarachi Gold in 2020 assayed high gold grades over significant widths including: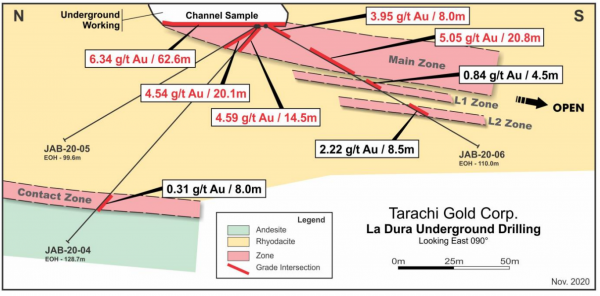 Cross Section with Phase 1 Drilling Results
Tarachi undertook a second phase of underground diamond drilling at Jabali in early 2021 to investigate the eastern and south extensions of the mineralized zone around the La Dura mine. Highlights from that program included a 63.4m intercept of 6.91g/t Au in hole Jab-21-009 and a 42m intercept of 1.79g/t Au in hole Jab-21-010 (see May 6, 2021 press release).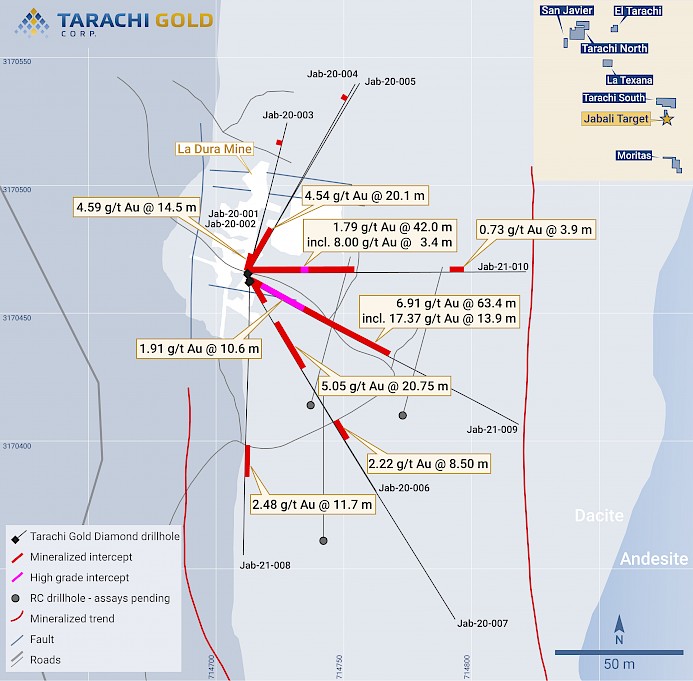 Plan map of La Dura Mine area on the Jabali Concession with U/G Drill Results
Following the success of the two phases of underground drilling, Tarachi mobilized a surface RC drill rig to continue exploring around the La Dura mine and in the region between La Dura and other artisanal mine workings to the south, known as Zaragoza. Highlights of the RC program included 7.26g/t Au over 12m in hole Jab-21-014 (see June 10, 2021 press release). Based on the results of the 2020 and 2021 drilling programs, Tarachi geologists believe the high grade mineralization may be closely associated with a north-south trending fault found on the west wall of the underground workings. The Tarachi geology team is currently evaluating recent and historic data using 3D LeapFrog software to determine the next phase of exploration on the Jabali concession.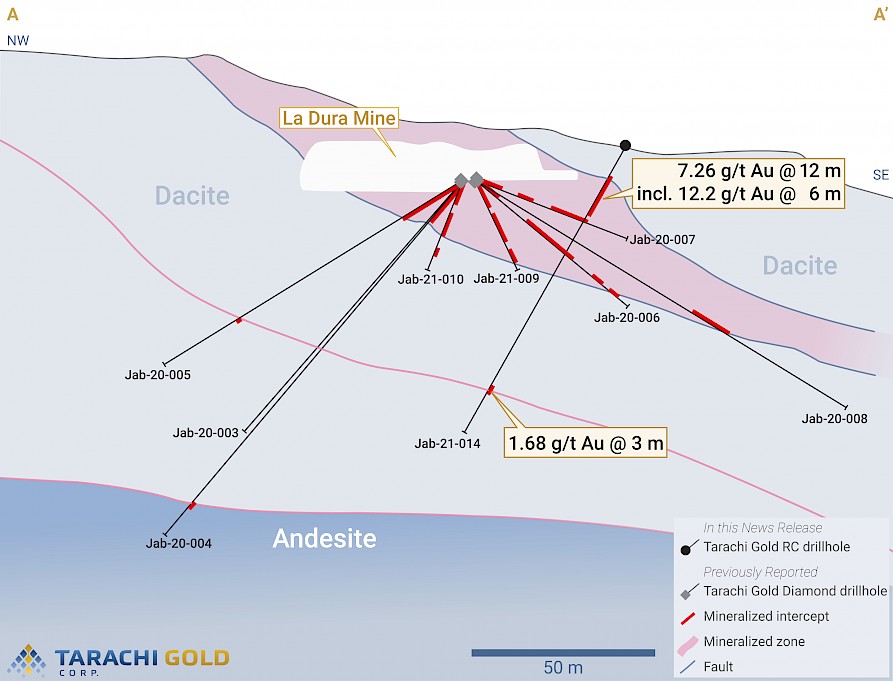 La Dura Mine Cross Section Looking East
During the surface RC drilling program in 2021, company geologists were able to pan free gold from leftover drill cuttings from hole Jab-21-014, seen in the image below.